THERMAX ONSITE ENERGY SOLUTION LTD (TOESL)
Thermax Onsite Energy Solutions Limited (TOESL), a wholly owned subsidiary of Thermax Limited offers sustainable solutions for outsourcing of utilities like Steam, Heat, Chilled water, Treated water, Power and Solar through the Build-Own-Operate (BOO/T) business model.
COST EFFECTIVE
Highest and consistent operating
Comprehensive O&M
Pay as you consume
GREEN
Reduced carbon footprint
Compliance with regulatory requirements
Dedicated biomass fuel supply chain
DELIVERY GUARANTEE
Assured utility quantity and quality
Guaranteed performance and uptime
Complete ownership of O&M
ASSET LIGHT
Allows ploughing of cash in core business
Abates technology risk
Leverage being asset light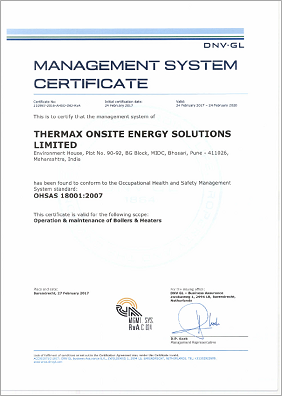 At TOESL, we value human life and believe that the health and safety of the individuals who work for the organization is above all.
In line with this thought, TOESL has been awarded with OHSAS certificate for all its HSE practices at Site.
With adherence to HSE policy, TOESL conducts all activities focusing on environment & safety, along with prevention of any injury to employees, contractors and society at large. We also promote occupational health of all work forces at site.