SOLAR
Thermax is one of the leading solar energy companies, having set up solar power plants on an EPC basis for a marquee list of customers. We offer both rooftop and ground mounted solar installations for various segments including industrial plants, commercial buildings, corporate offices, IT parks, institutes, warehouses and public sector units. We provide end to end support to our customers, from concept to commissioning and O&M support, thereafter.
Thermax has commissioned one of the largest single roof solar PV projects in India at GAIL Pata – 5.76 MWp.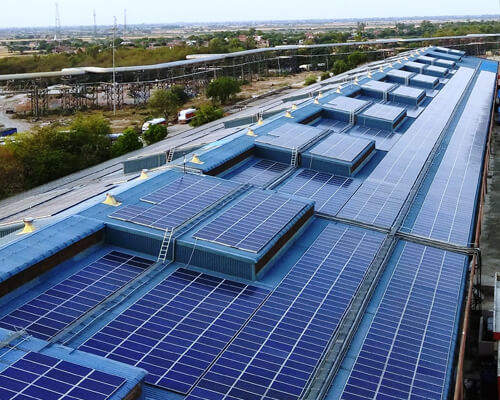 EPC
Thermax's has proven expertise in engineering, procurement and construction. Focusing on quality and timely execution, Thermax delivers customised solar PV solutions at optimal cost and within stipulated timelines for both rooftop and ground mounted projects Rooftop
Off-grid and grid connected solutions
On a variety of roofs – inclined and curved roofs, elevated structures, car parks, cantilever structures etc.
Reduced implementation time with zero civil works and simplified maintenance with non-penetrating structures
Ground Mounted
Solutions for ground based solar projects ranging from 100 kW to multiple MW installations.