Propelling a Sustainable Growth Strategy
Operating Context
Factors Impacting Businesses
Capital goods being a derived demand sector, Thermax is subject to cyclicality, based on the capital formation plans of its customers. During the year, the company initiated a strategic plan – ThermaxNXT – to mitigate the effects of such cyclicality. As part of this strategy, Thermax has identified the following levers of growth:
Businesses with high growth potential
Focus on services that enhance efficiency
Cost optimisation across the value chain
Organisational capability building
ThermaxNXT is focussed on:
Revenue growth in identified businesses to achieve larger scale
Aiming to reach 100% of the installed base with technology enabled services
Achieving cost excellence through modularity and 'design to value'
Building an organisation that drives excellence, inclusivity and innovation
The company expects these efforts to translate into incremental revenue growth and stronger alignment to the green ethos.
---
Strategy Planning Process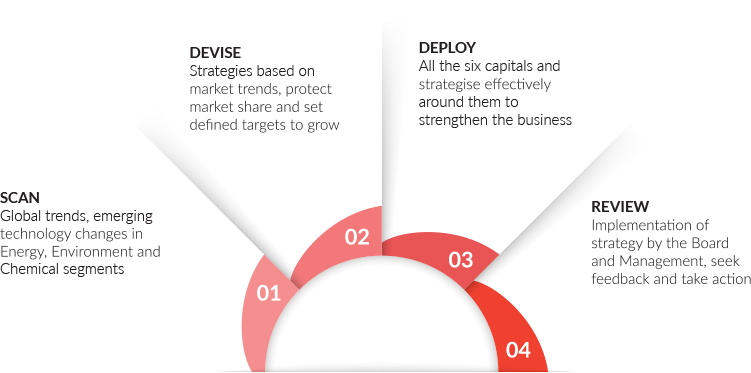 Strategic Imperatives
Strategic Enablers
For detailed information on Strategies and its Key Enablers click here