Enhancing Digital Presence
i. FEPL website and social media pages
We constructed an exclusive website for our wholly-owned subsidiary, First Energy Private Limited, to connect with customers and understand their requirements in a better way. We also leveraged the social media platform and created LinkedIn, Facebook and Twitter pages to provide the customers and readers with regular updates and a comprehensive overview of our renewable energy offerings.

For more details, click here
ii. Campaign on
#ThermaxForABetter Tomorrow
Human pressure on the environment has soared. Ecosystems, the fabric of life on which we all depend, are declining rapidly because of human actions. Hence, the risks posed by climate change have been demanding greater industrial sustainability. As an energy and environment solutions provider, we have a significant role to play in addressing these existential threats and building a more sustainable and hopeful future. With this sustainability campaign, we aim to spread awareness on environmental sensitivity and the need for sustainable solutions to conserve natural resources and align them with our brand promise of 'Conserving Resources, Preserving the Future'.

For more details, click here
iii. Campaign on
#ZeroWeGo
Through #ZeroWeGo, our move towards reviving a healthier and greener world begins with the fundamental aspect of reduced emissions. As a thought leader of sustainability and energy savings, Thermax intends to inspire and encourage industries to incorporate zero-emission solutions, such as the vapour absorption machine (VAM), to realise their net zero dream. Its major goal is to position absorption cooling as a viable candidate for industries and commercial complexes' cooling requirements.

For more details, click here
iv. YouTube Revamp
The digital space of today is dynamic with search engine updates, website trends, new and evolving features and functionalities. To stay abreast with the latest trends, our Company's YouTube channel has been revamped to provide a seamless experience to the users. The YouTube channel showcases new product launches, product videos, leadership talks, Life at Thermax and news features.

For more details, click here
Thermax Finance Services (TFS)
Thermax Finance Services (TFS) changed the financial transaction processing of all the domestic group companies, bringing about a significant transformation in the Company's finance division.

For more details, refer to the chapter on Financial Capital, click here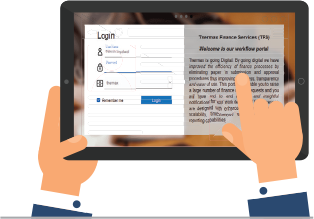 Advanced Technologies for a Better Tomorrow
i. CuBe
The Water and Waste Solutions division launched CuBe, a completely modularised and aesthetically appealing sewage treatment plant. This is a pre-fabricated and pre-assembled sequential batch reactor with completely automated features. The product is available in 10, 20, 30 and 50 KLD capacities, turning it into a perfect solution for commercial and residential segments.

For more details, click here
ii. Revomax Nxt
Revomax Nxt is an efficient instant steam generator preferred by various process industries. It has been geared up with higher system efficiency and improved dryness fraction to elevate its performance for customers' processes through world-class aesthetics and ergonomic design.

For more details, click here
iii. Gasification
India has one of the highest coal reserves in the world, most of which is high ash coal. The utilisation of Indian coal through the gasification route is a promising way of achieving India's energy security. The flue gas (commonly known as Syngas) produced from coal can be utilised to indigenously produce fuels like ethanol, methanol and various downstream chemicals. Hence, Indian coal can substitute import of crude oil in the future. At Thermax, we have taken strenuous efforts for over a decade to develop the most appropriate coal gasification technology suitable for high-ash Indian coal. Multiple pilot-scale gasifier projects have been conceptualised, designed and installed in collaboration with IIT Delhi. At Thermax, we are all geared to demonstrate our gasification technology at a commercial scale.
iv. FlexiSource
The world's commitment towards net-zero is leading to an increased demand for adaptive changes towards decarbonisation. Thermax Babcock & Wilcox Energy Solutions Limited (TBWES) launched FlexiSource, which can efficiently combust multi-waste fuels and provide high flexibility to customers, thereby achieving high efficiency.

For more details, click here