Projects Under Thermax Foundation: Towards Sustainable Communities
i. The School Project and Alumni Project
The School Project
Thermax Foundation supports two Akanksha Foundation schools in Pune through a public-private partnership mode. TF also supports the Akanksha Foundation alumni, to enable handholding and guidance to pursue higher education and provide career guidance. During the year, Thermax Foundation funded the schools – K.C. Thackeray Vidya Niketan (KCTVN) English Medium School and Savitri Bai Phule (SBP) English Medium School. It utilised innovative ways to continue learning online almost all through the academic year.
Some good practices adopted across all Akanksha schools included teacher training on socio-emotional ethical (SEE) learning skills, distribution of stationery kits to students, Junior KG admissions through lottery system, digital literacy workshops and vaccination drive for parents in the community.
A third-party assessment conducted for the school project by Deloitte revealed that in addition to the academic focus, in pandemic times, the professional development of teachers continued, and several community connect platforms were fostered. There were regular School Management Committee (SMC) meetings, parent-teacher meetings and community engagement activities for parents of children enrolled across both schools.
Innovative methods like flip classrooms to engage students in learning have been introduced.
Extracurricular programmes continued with a focus on art, craft, sports, online celebration of special days, annual events, competitions, and other activities which provide children with an opportunity to express and learn skills beyond academics.
Akanksha Alumni Project
The alumni programme has evolved to provide career pathways to students once they graduate from an Akanksha school. Interest-based pathways, is the backbone of the programme design which enables students to get access and knowledge of career options post grade 10, grade 12 and even graduation. Thermax Foundation supports the alumni from six Akanksha schools. They engage in activities like career guidance, mentoring support and counselling. Akanksha Foundation also provides relevant vocational training to alumni on alternate careers. The 'building a community connect' pillar within the alumni programme integrated students on various connect platforms such as the Almashine alumni portal and batch-wise WhatsApp groups. These are dedicated platforms to provide an opportunity for alumni to come together, share experiences and learnings, and get motivated by each other's success and progress. The alumni, through the portal, can also get an update on various events and careers to further access higher pathways.
In FY 2021-22, 10% of alumni, post SSC, joined vocation-based courses and vocational skilling through skill-based organisations. The most preferred courses were electronics, child and healthcare services, medical lab technician, accounts and office management. Others joined FYJC for commerce, science and arts stream. Going forward, the idea is that we bring in successful alumni, both in vocations and graduates, to talk to kids and let them decide their future, based on the student's aptitude and strengths.
Among the students who opted for United World Colleges (UWC), two have been selected for UWC Mahindra, India and Tanzania.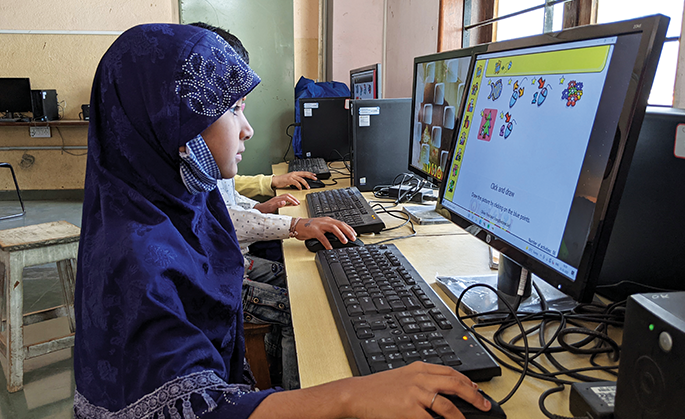 Learning through visualisation for a better tomorrow
ii. iTeach Alumni Support Wing (ASW) Project
TF supports 400 alumni from Teach For India (TFI) through the iTeach alumni support wing programme under which they help low income private schools for enrolment in junior college till they complete 12th standard. 97% of the students joined reputed junior colleges. For the 220 studying in 12th standard, career guidance, academic mentoring and internships extended by iTeach are planned.
From the FY 2021-22 cohort presently in 12th standard, three students have been selected in Krea University and three have been selected in Azim Premji University.
iii. CSR at Factory Locations
Location
Savli
Project
Pragati (Welding Training)
About the Project
Thermax Foundation has partnered with NGO Lokbharati to conduct skill building training for the youth in the community (could even be Xth class fail) near Thermax factories at Savli. Based on the need for welders at the factories in the vicinity, 125 individuals were trained.
Outcomes
To ensure practical exposure, factory visits and safety training were organised for welding trainees. Basic training on financial planning and soft skills were also a part of the programme. All the candidates completed National Council for Vocational Training (NCVT) certification and 80% were placed and the status of each candidate's placement is being monitored. Though the local youth is trained for the skill based on the needs of recruiters in the area, this isn't adequate. Month-wise retention data reveals that after three or four months, almost 50% candidates leave the job. Since many companies offer vocational courses to the youth free of charge, they attend the programmes even if they lack interest in the vocation offered. As a corrective measure, it is being decided that for the subsequent batches in FY 2022-23, aptitude tests in vernacular language will be conducted at the time of sourcing the candidates to identify the career options best suited. Accordingly, the batches will be decided for technical and non-technical vocational courses.
Location
Savli
Project
Manavseva
About the Project
To ensure the reach and facilitation of government schemes for the entitled beneficiaries from under-served families, Thermax Foundation has initiated the Manavseva programme for communities near Savli factory location.
Outcomes
Through this service, over 280 individuals received Aadhaar cards, Ration cards, Covid-19 death compensation, certificate of income and certificate of backward class during the year. 23 people received old age pensions and 41 women received widow pensions. Post Covid-19, seed capital support of Rs. 25,000 each was received by eight individuals under the Manav Garima scheme to support their small businesses.
Location
Jhagadia and Dahej
Project
Attendant Operator Chemical Plant (AOCP)
About the Project
Thermax Foundation has partnered with NGO Lokbharati to conduct skill building for the youth in the community near Thermax factories at Jhagadia and Dahej. Among the other skills required by recruiters, AOCP trade is sought in a majority of chemical factories in the vicinity.
Outcomes
In FY 2021-22, 120 candidates were trained. To ensure practical exposure, factory visits and safety training were organised for AOCP trainees. Basic training in financial planning and soft skills was also a part of the programme. In addition, at Jagadia, as a pilot, one batch of 40 women candidates completed data entry operator training. While 80% of candidates have been placed in companies in the vicinity, the status of retention tracked revealed a number of dropouts. Therefore, for subsequent batches, an aptitude test will be done for more appropriate skilling and placement.
Location
Solapur
Project
Watershed Project
About the Project
Thermax Foundation has been working with the NGO Manavlok in water deficit villages near the Thermax factory at Solapur. The villages faced acute water shortage due to scanty rainfall and hence this project is to facilitate stream widening and watershed activities. The project involves the ownership and accountability of villagers.
Outcomes
After the successful work of stream widening at Ranmasale village, in FY 2021-22, villagers from Mohitewadi, Darphal and Wangi had approached Thermax Foundation to help in desilting and river rejuvenation. Initially, the machine work was delayed due to excess rainfall as canal water was filled in the water body planned for excavation and desilting purpose. To utilise the time lag, during this period, a capacity building workshop was conducted for the farmers on topics related to 'farming techniques in water deficit areas' by experts. At present most of the planned work has been successfully completed with water storage increase, access to water for rabbi crop and increased percolation attained to increase groundwater recharge.
Location
Shirwal
Project
Haqdarshak
About the Project
To extend Covid-19 vaccination support along with basic facilities and government entitlements to communities in the nearby villages.
Outcomes
During the year, Thermax Foundation tied up with Haqdarshak to provide Covid-19 vaccination support for dose 1 and dose 2 to residents near Kesurdi and nearby villages; in addition to extending assistance for government schemes. From the 3,026 beneficiaries, 955 received Covid-19 vaccination, 127 received E-Shram cards, 1,045 received Digital Health IDs, 765 registered for Mahatma Phule Jan Arogya Yojana, and 134 received support for Aadhaar card, Ration card updates to avail government benefits.
Location
Sri City
Project
Pragati
About the Project
Thermax initiated welding skill training for a batch of welders at Sri City for youth in the community.
Outcomes
All candidates completed NCVT level 4 certification. As part of this project, employees at Sri City volunteered to teach students behavioural skills, including communication and presentation. All the candidates have been placed and tracked. During FY 2021-22, we will work with the NGO partner to select the candidates from the community based on aptitude and support them with technical and non-technical courses needed by the recruiters in the vicinity for better retention.
Case Study
Social Compact
An Introduction
In September 2020, as the country grappled with the challenges of Covid-19, Thermax embarked on the Social Compact (SoCo) initiative with NGOs like Dasra, Aajeevika Bureau and other like-minded corporates, to help design a framework to support informal workers live a life of dignity and equity. The pilot engagement started in September 2020. NGO partners carried out an on-site assessment at a few factory and site locations at Thermax.
6 Key Outcomes
Secure living wages
---
Maximise safety against accidents
---
Ensure health and social security
---
Foster gender equity
---
Facilitate access to entitlements
---
Enable participation in future of work
An Update on SoCo
Organisation-wide implementation commenced in September 2021 where a framework was defined to identify catch up areas around factory and site locations. A checklist encompassing 32 action items is being monitored regularly to ensure that the execution is on track.
Internal audits reveal compliance at all factory locations; however, Thermax is making efforts to look at compliance at all sites (over 250) in a phased manner. Once the initial measures are achieved and maintained at all sites, we will progressively move to the next level - as envisioned through the Social Compact.
Thermax Foundation and the CSR wing of Bajaj Auto jointly launched the 'Worker Facilitation Centre' (WFC) in Pimpri Chinchwad Municipal Corporation (PCMC), Pune. It is designed to cater to a vital industry hub consisting of more than 3 lakh informal workers. The WFC will eventually become a go-to place for any worker in the vicinity to seek information about labour practices. We have started with awareness on government entitlements related to Builder and Other Construction Workers (BOCW) Act, E-shram, Pradhan Mantri Jeevan Beema (PMJB) scheme, Aadhaar card linkages to bank accounts, ESIC access and counselling. At present, various outreach and awareness camps are being conducted at Bhosari labour naka and nearby places where there is a high footfall of construction site workers.
RELATIONSHIP CAPITAL
We made further progress in becoming a value-based organisation by building invaluable relationship capital with all our stakeholders. We listen to our customers, channel partners and business partners to understand their specific requirements. We also conduct sustainability-based awareness sessions for suppliers and seek their feedback to improve quality and productivity. Thermax Channel Associates (TCAs) are provided with technical training to improve their capabilities in offering better customer service.
Thermax Channel Associates (TCAs)
i. Dealer Management System (DMS)
To address the needs of our dealers and facilitate the assessment of sales, we have introduced DMS. The objective of this platform is to help manage financial transactions with dealers more transparently, monitor secondary sales data, and importantly, analyse sale trends for different spares.

For more details, refer to the chapter on Intellectual Capital, click here
ii. Other Initiatives
In addition to DMS, Thermax has participated in several key initiatives with the purpose of ramping up processes and functions and ensuring complete support to TCAs. To illustrate, NACH – a robust, secure and scalable platform kick-started, enabling digital payment modes and safer transactions with channel partners. Websites and social media platforms for channel partners were revamped as a part of the strategic and integrated digital marketing plan.
The Company plans to achieve operational efficiency, acquire new customers, and generate leads through TCAs and Channel Business Group. With the launch of new products in Water & Waste Solutions (WWS), Process Heating, Air Pollution Control (APC) and Steam Engineering, TCAs have been able to provide better product capabilities and robust solutions to customers. The launch of Robo and Swayam for automated proposal generation for WWS and APC made responding to customers more agile and simple.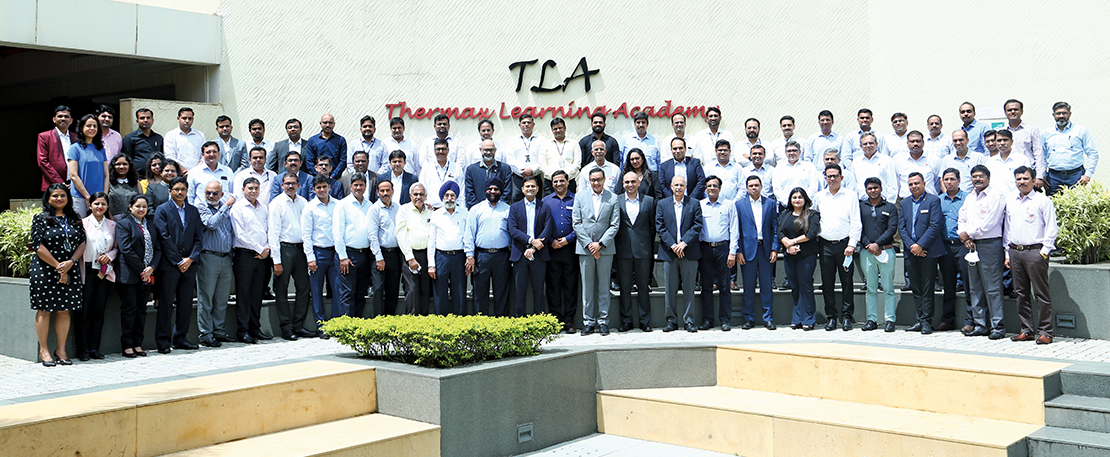 Thermax's Channel Business Group formed a Partner Advisory Council (PAC) with identified top 13 channel partners, launched in September 2021. Thermax PAC aims at co-creating 'growth' and 'operational excellence' blueprint for the next three years with channel partners. During the launch, five centres of excellence were announced – Product and Services, People, Finance, Technology and Marketing, which integrate with ThermaxNXT and Channel Business strategy.
Vendor Partners
During the year, a key transformation was ushered in the form of Thermax Financial Services (TFS) for faster processing of vendor bills as per the defined timeline.

For more details, refer to the chapter on Financial Capital, click here
Online training sessions were organised to build capabilities of suppliers. During the year, more than 70 vendors were trained through these sessions. The 'Supply Chain Sustainability' series for critical vendor partners continued to build awareness on safety and environment during the year. The vendor registration process includes questions on sustainability. As buyers from Strategic Business Units (SBUs) worked with suppliers to increase awareness on sustainability, it also helped increase the share of sustainably-sourced material to 37%, up from 35.6% in the earlier year.
Customers
Thermax has been a key supporter to its customers in their sustainability efforts. As the world of energy transforms, several customers have adopted a fundamental look at their carbon footprint and are charting their sustainability future. Being a clean air, clean energy and clean water company, our primary aim is to understand the needs of our customers and facilitate them in moving ahead on their energy transition journey. Our four key account management (KAM) teams are targeting 14 specific accounts in food, pharmaceuticals and chemical sectors. We partner with them in saving on energy and water, minimising pollution and CO2 emissions and making a transition towards green and sustainable operations.
Case Study

Revolutionising Customer Experience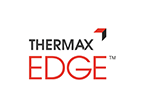 A significant milestone towards enhancing the customer experience has been the launch of Thermax EDGE™.
In following a substantial step to bring the breadth of our services and our offerings to customers' fingertips, we virtually launched an all-inclusive and one-of-its-kind customer portal 'Thermax EDGE™'. The event was simulated live to our customers via our website and YouTube platform and was viewed by more than 2,500 individuals.

For more details, click here