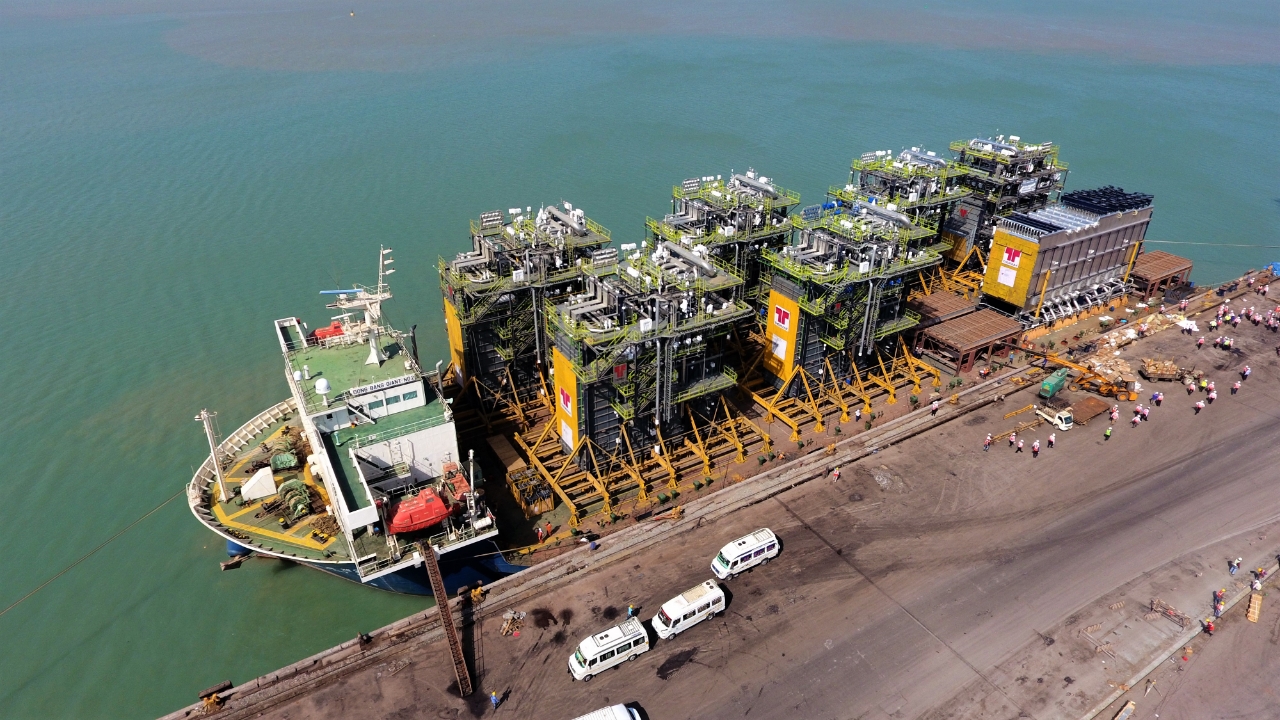 Modularised utility packages for the largest refinery in Africa
"Apart from setting a record in manufacturing the largest packaged plug-n-play utility boilers in India till date, we have also achieved a benchmark in the concept of modularisation. With increasing complexities involved in setting up greenfield process plants, our modularisation solution can help customers de-risk their construction work and accelerate completion time," said Pravin Karve, EVP, B&H on the execution of the $157 million contract bagged by Thermax. 
The largest export order received by Thermax so far comprised four utility boilers, eight heat recovery steam generators and two flue gas steam generators for the largest refinery and petrochemical project coming up in Nigeria. Most of the equipment supplied will be used to generate power and steam efficiently for the refinery. 
On 30th May 2019, almost 60% of the consignment set sail from Thermax's port facility at Mundra and the rest are getting ready for shipment. The teams from process design, projects, detailed engineering, materials, quality control, manufacturing, construction and logistics worked extensively for over 20 months under the leadership of Nitin Naik, project director for this prestigious assignment. Specialised 3D modelling was used in designing a compact modular layout that could seamlessly integrate into the refinery process plant and transported as big modules to reduce site work. The sub-assemblies were manufactured at Thermax facilities in Shirwal, Savli and Chinchwad as per global quality norms. The final assembly was then completed at Mundra. Speaking of the quantum in numbers, 1,300 people including third parties worked on the project deploying 5.1 million manhours to build equipment weighing over 21,000 tons. All this without a single reportable accident! The largest module weighed 1,450 tons and the tallest one was higher than an eight-storey building. 
The other critical aspect of the project managed skilfully was transporting these massive edifices to the port and then rolling them on to the special ro-ro vessel. The modules were sea fastened to ensure that they sail smoothly across continents, enduring strong winds and other harsh weather conditions. The logistics team had to modify the road and other infrastructure of the travel route to the port for the self-propelled modular transporter (SPMT) to drive through. The overall commitment of the team in leaving no stone unturned has created a historical moment for Thermax. 
"Congratulations B&H team for making us proud and highlighting our superior execution capabilities to the world. I am sure that this achievement will bestow confidence among our customers that Thermax is geared to execute similar projects on any given scale not just for utilities but also other industrial packages," said M.S. Unnikrishnan, MD & CEO, Thermax. The B&H team showcased this project to other potential global customers by organising a seminar on 'Modularisation-the Next Big Opportunity' on 27th May 2019, which was attended by 45 delegates from 19 multinational companies.