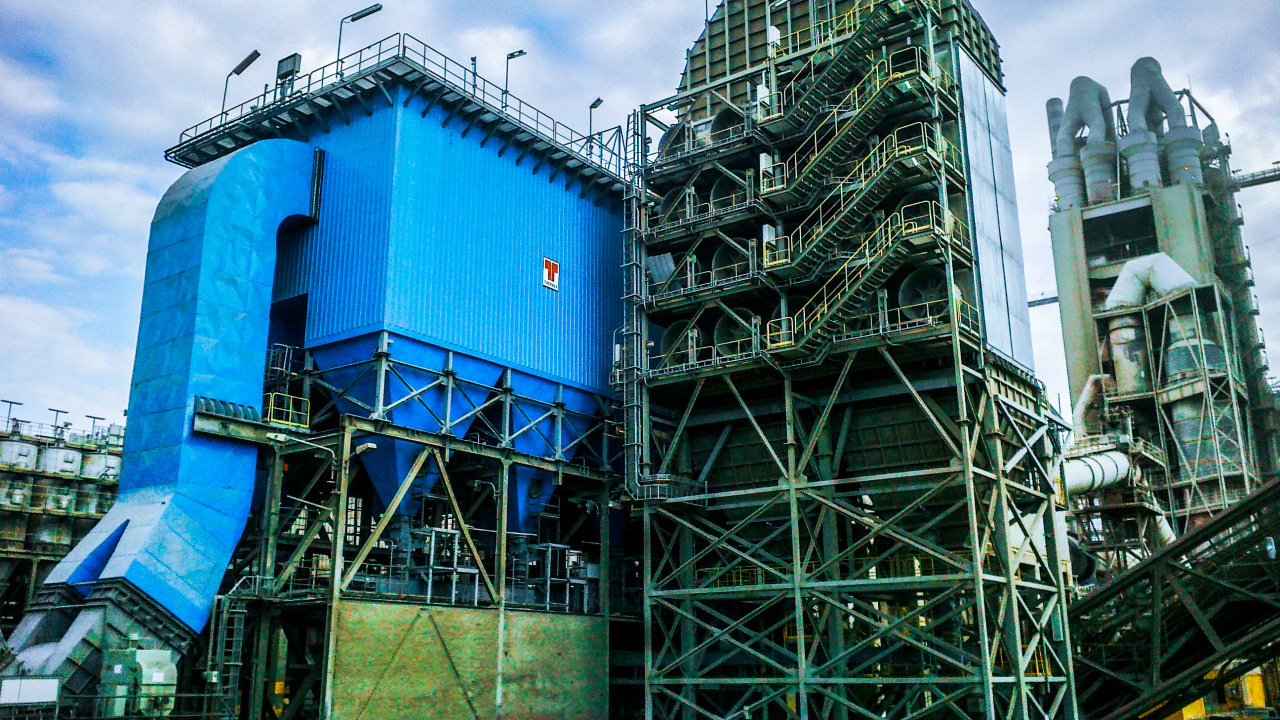 Thermax Enviro Solutions empowers the oldest Cement Company of Egypt
About Tourah Cement
The Tourah Portland cement Plant, Egypt's first cement company, was established in 1927. It is owned by Suez Cement company (66.12%). The company consists of two plants located in an area of 10,000,000 m2 in Tourah district with 9 production lines.
The Changing Business Scenario
Driver of the Change: Emission Standards
As global awareness and concerns grew about the Air Pollution and its hazards, Egypt also decided to upgrade the emission standards that a cement plant must meet in order to ensure a cleaner and healthier environment.
As per the changes in the law, any cement company in Egypt must meet the new emission standards of SPM < 20 Mg/NM3 from earlier acceptable limits of SPM< 100 Mg/NM3 resulting into a complete change in the business scenario for Tourah Cement.
Affected Applications, Utilities and Challenges
| Application | Existing APC |
| --- | --- |
| Raw Mill x 2 | ESP x 2 |
| Clinker Cooler | GBF |
| Alkali By Pass & Gas Cooling Tower | ESP |
APC: Air Pollution Control Equipment
ESP: Electrostatic Precipitator
GBF: Gravel Bed Filter
Challenges Associated with Rehabilitation
1. Efficiently meet the expected new emission standards.
2. Minimize capex and downtime of the plant and without disturbing the other operations much.
3. Modifications and additions within the little space available posing as a significant constraint
Solution Offered by Thermax
Thermax studied the requirements of the customer and associated challenges. Based on its years of experience, Thermax Retrofit and Revamp Design team came out with a solution to be executed within 45 days planned shutdown for all the three applications. In order to reduce the Capex, Thermax used its engineering skills so that the existing structures, casing, hoppers etc can be utilized to maximum in the new solution.
Raw Mills (Both) – ESP for replaced with Pulse Jet Bag Filter
Existing Casing was repaired and partition was created to accommodate the new 2 chamber Bag House.
Existing building was strengthened and used.
Clinker Cooler – Gravel Bed Filter replaced with Heat Exchanger & Pulse Jet Bag Filter
Heat Exchanger was provided for Clinker Cooler Gases prior to entering the Bag Filter Chamber.
The Bag filter with six compartments was constructed on the structures of the existing Gravel Bed Filter New Ducting connecting to old discharge system was only used.
Alkali By-Pass & GCT -ESP replaced with Pulse Jet Bag Filter
Existing ESP Support structures & Hoppers were used to construct the New Bag Filter The existing GCT was upgraded to handle dual fuel.
Final Process Parameters
| Application | Offered Solution | Volume(M3/Hr) | Temperature(C) | Inlet Dust Load(gm/NM3) | Outlet Emission Achieved(mg/NM3) |
| --- | --- | --- | --- | --- | --- |
| Raw Mill x 2 | Pulse Jet Bag Filter | 630,000 | 200 | 200 | < 20 |
| Clinker Cooler | Pulse Jet Bag Filter | 450,000 | 120 | 20 | < 20 |
| Alkali By Pass & Gas Cooling Tower | Pulse Jet Bag Filter | 195,000 | 200 | 80 | < 20 |
Achievements
1. Execution of project covering all the 3 applications completed in the planned shutdown of only 45 days.
2. Equipment handed over after commissioning in just 15 days.
3. CAPEX reduced as per customers expectations by utilizing existing structures to maximum possible.
Project in Pictures
Raw Mill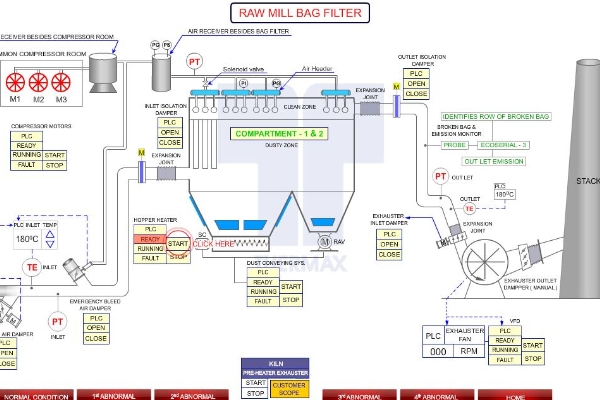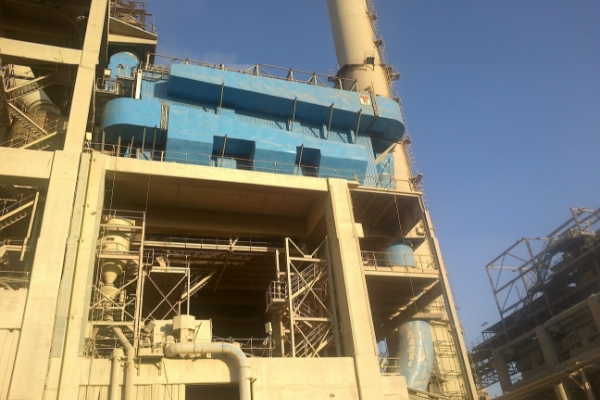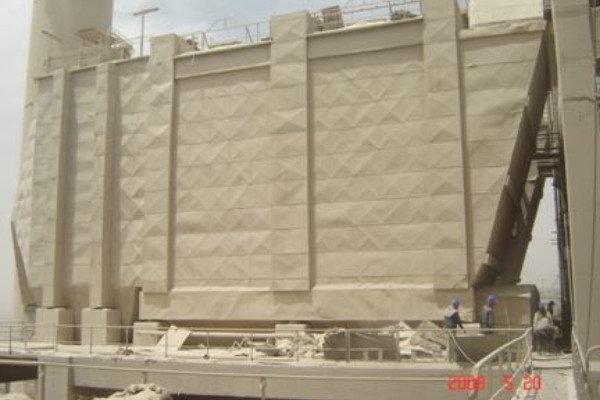 Clinker Cooler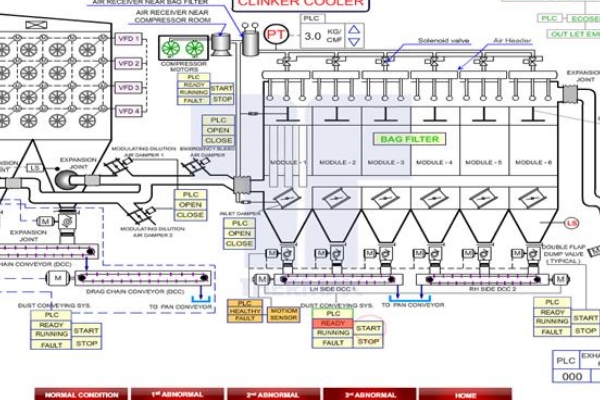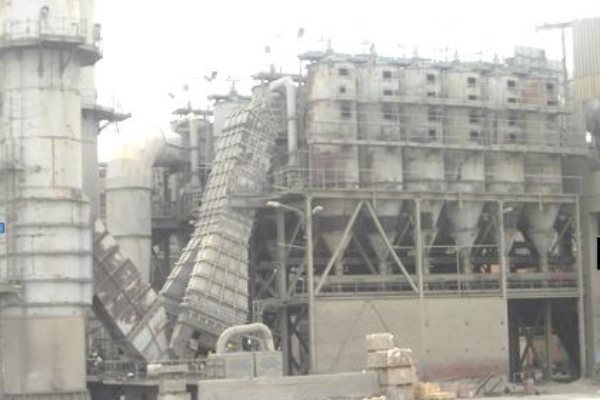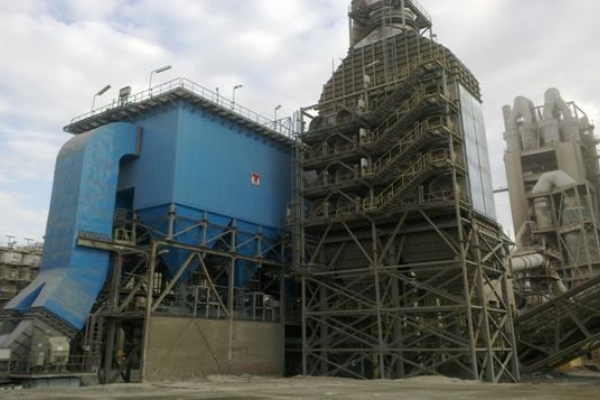 Alkali By Pass & Gas Cooling Tower