Discovering your career by embracing change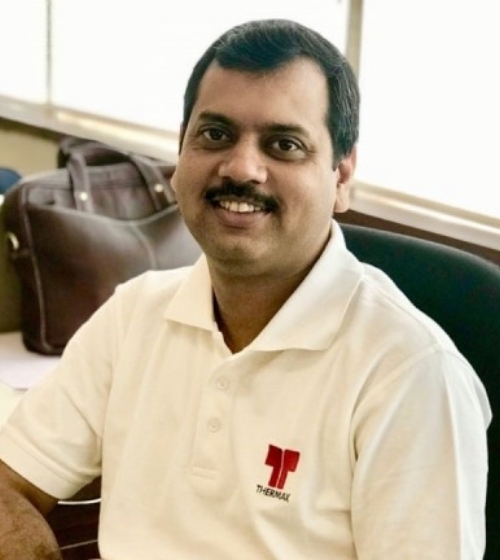 From a Control Room Engineer to a Global Sales Head, my professional journey has been filled with experiences that have left me with some insightful learnings and a sense of confidence to remain. As I reminisce, I often wonder what made me stay back in this company for so long, was it the constant career moves, an opportunity to learn from different assignments, the freedom to implement and test out maverick decisions or was it just the comfort? I can go on and write things about why employees love their jobs and what keeps them ticking, but I am no HR expert, and the answers are never easy.
I joined Thermax in 2005 through a walk-in interview, perhaps the third employee after the Business Head & the Operations Heads. I was posted to work at Alathiyur – a site located deep in the south of India. Unaware of the travails of 48-hour travel from my hometown in North, I arrived fatigued and exasperated and most certainly determined to return within a day and resign from the assignment! It was perhaps an instinct that pushed me to go on. I arrived at the site to witness a spectacular creation of plant and machinery which left me deeply curious about its working and performance. It was love at first sight, and from then on, I never looked back. Through the next 6 months I was drawn into the commissioning and stabilizing activities of the Power Plant and found myself embracing the opportunity to experiment and learn the nuances of operating a plant. That is when I learnt my first lesson – Never Quit Without Experiencing Difficulties. You Have Nothing to Lose!
Close on the heels of the Madras Cements project, new EPC orders started flowing which opened multiple O&M opportunities. As we added new plants the operations expanded, and I was called into to support the head office work. This was another turning point where I could have chosen to stay back at the plant, but my keenness to work with new things nudged me to take on this role. This event significantly impacted my career. That is when I learnt my second lesson – Embrace Change, Cause You Never Know What Destiny Has In Store For You!
With a frugal team of two, I was thrust into challenges of the new role – supporting Site Execution, Buying Sub-Contracts, creating and aligning to new business processes and above all the financial discipline. This was clearly a start-up environment and I count myself to be incredibly fortunate to be a part of the journey. The evolution that you witness in a start-up gives you a first-hand view of building a business brick by brick. And this is exactly what Power O&M was going through. Observing my seniors wade through tough decisions of retaining customers, acquiring new orders with challenging timelines, collection of bills from reluctant customers, handling customers with serious complaints and more. It was a deluge of events and activities that kept me busy, not to mention the constant demand of keeping our plants running round the clock.
As a part of a team that created the first Business Processes for O&M in 2006-2007 which formed the base for the current operating structure, I was able to co-relate the purpose of each process with the operations in the field and the checks and balances that it brought to the business. Along with Business Processes, I worked on EAM (Maintenance Management System for O&M Sites) with my current site execution responsibilities. This gave me a completely new perspective to view business from another dimension. After successfully crafting the processes and setting up the EAM, I was handpicked for leading the "Transcend" initiative for cost reduction and sustaining growth for SBU with Accenture. Another move across the business.
While I was moving from one cornerstone to another, I was gaining exposure to a multitude of activities including problem solving, creating new systems and for the first time I felt a bit overwhelmed and that is when I learnt my third lesson… Take A Pause, Reflect, And Decide What You Want To Do Next. Focus On Where You Want To Move And Why?
With a rich and diverse experience in the O&M operations I decided to try my hand at sales. I took on a fulltime sales role. Thanks to my seniors, who trusted me and gave me an opening to handle the domestic market albeit a challenge to get into a completely new market. We tried hard and came agonizingly close to bagging a few orders in the Large Power Plant Segment but somehow, success eluded us. Another lesson for me… Not All Moves Give You Immediate Success But Their Experiences Prepare You For The Future!
The next big change came my way in 2014 when I got the opportunity to handle International Sales. Creating a go to market strategy in the backdrop of playing in an alien territory, communicating in a foreign language, working in a new culture, coupled with complex issues of Entity formation and immigration was a unique assignment that pushed me to think hard and in different directions. Pushing through these odds I managed the first success which became a game changer for an SBU like ours. Suddenly our revenue and profits jumped multi fold and I was pleasantly reminded of lesson number 2 Embrace Change, Cause You Never Know What Destiny Has In Store For You…
My penchant for moving across and successfully adapting to new roles made me visible to key stake holders and I was offered to lead global sales in 2019. This was the next big thing that placed me in the middle of a key leadership deliverable of man management!
When you take on new roles you get opportunities to test yourself against diverse requirements which help hone talents and skills that may have otherwise remained dormant. I have come to believe that each experience sharpens you in its own unique way. Once you have accepted the new role – commit to it wholeheartedly, expect the first few months to be challenging. You may even find yourself in a wobble like you do when you learn to ride a bike for the first time. Embrace this key phase, invest in new relationships, and create a new future. Perhaps you were the expert in your last role and now you will be the beginner but don't let that shake your confidence. You have made this move for a reason, give it your best and don't look back.
Moving within the organization requires a unique plan, a process and above all an open mind to remain curious. Getting a guide and a mentor is a key factor. Invest some time to do it right, and you will increase your chances of landing in your best job.
I cannot thank the organization enough for helping me with opportunities to build an all-round experience and a big thank you to my superiors and mentors who stayed by my side in this interesting and intoxicating journey.
– Anurag Chincholkar
Global Sales Head, Power O&M division