Experimenting with change!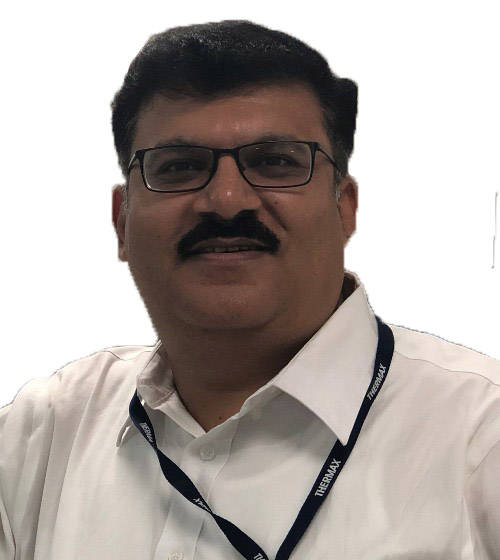 As I look back on my journey of 18 years with Thermax, a total of seven relocations, as many role changes marking new milestones, learnings, and plenty of priceless experiences, come to the top of my mind as I write this blog. The multiple roles in my overall journey took me to cities like Mumbai, Baroda, Surat, Ahmedabad, Jakarta, Chennai and finally, Pune. I take this opportunity to share with you all, this treasure trove of learnings that might relate to many of your journeys as well.
It was in 2002 that I joined Thermax after a short stint of two years in sales in a capital goods multinational company. I was recruited as a Sales Engineer in the Absorption Cooling Division (erstwhile ACD) at the Mumbai Office. This short stint in Mumbai, helped me learn the basics of Absorption Cooling.
I was then transferred to Baroda as a Sales Engineer where I handled sales for Absorption Cooling in the Baroda market. I was independently handling concept selling till the closure of the order. This prepared me for my next role.
The next calling for me was Surat where I was appointed as a Resident Engineer. This has been one of my most memorable experiences as the role was a multi-faceted one. A Resident Engineer's job spans 360 degree – from being an office boy to the Sales Head, meaning, handling all meagre tasks like couriering documents to addressing customer grievances to managing the boiler and chiller sales. This role allows an individual to be at the customers' service and thus, earn their faith and trust as a person and as an organization's representative. The operations front was particularly challenging here, as I had to face a tough competitor from China who had a strong influence on the market & we also lost our frontend dealer to the same Chinese competitor. Eventually, I was able to turn around the tables and reinstate Thermax's base in the market. Lessons on relationship building and representing the customer's side in our organization were my key takeaways from this stint.
Post a small stint in Ahmedabad as Gujarat Sales Head, my horizons expanded when I was offered the position of a Business Manager to take care of the entire Western Region. The previous experience had prepared me for this big responsibility. Here, I had the opportunity to experience life in Mumbai, the city that never sleeps. Life seemed to get into a fast gear, analogous to the transition between various mediums of transport viz. from the BEST bus to Mumbai locals (switching between three different lines), to a yellow top cab to travel to various customer offices and manufacturing units! While leading sales for the Cooling business, I got to engage with many corporate customers. I also learned some people management skills while leading a small team of eight sales engineers. It was gratifying when in FY'12, we received the honor of being the best performing sales team.
As many of us aspire, I too hoped to pursue a professional stint overseas. After a much satisfying term of four years, the Absorption Cooling division then entrusted me with the role of spearheading sales for Southeast Asia based out of Jakarta. From regions, now my scope was expanding to countries – it was a big opportunity as much as it was a responsibility. The dimensions of life changed again – right from facing a different language, culture, to interacting with customers of varied nationalities. In 2014 Thermax geared up to foster its footprint internationally through the launch of "Project Genesis" which was undertaken in partnership with McKinsey for selective internationalization & one Thermax Approach for the product businesses. I went on to become an inherent part of the Indonesian IBG team, leading the sales team from the Jakarta office as a Regional Sales Manager and representing Thermax for all its products. Managing a mixed team of expats and locals, international customers, and engaging with an external consultant efficiently were my takeaways from this international stint.
I would like to urge all aspirants to take up at least a brief stint of 3-4 years outside India whenever the opportunity comes your way. It will change your perspective towards life.
The next destination in my corporate career was South India. Post work in Indonesia, I was thrilled to have been considered for the role of a Corporate Regional Manager (CRM), wherein I took over regional functions. I relocated to Chennai, the city of temples. This role was a dynamic one allowing me to represent all verticals of the organization and manage customer relations. It provided me with hands-on experience in setting up new offices for Chennai and Hyderabad. I learned one of the most crucial skills of people management in the shoes of CRM while managing a team of over 130 members in the matrix structure.
Three years on from here, the senior management offered me yet another role of a much higher responsibility – a PU Leader. I took over as the PU Head of Heating Services during the turbulent times of the pandemic in April 2020. It has been a challenging year so far managing the P & L for a business. After learning the tricks of the trade required for various markets, it has been great to understand how things work at the backend across various functions like engineering, planning, materials, projects, stores, commercial & Exim. It also gave me immense exposure to managing a vast customer base of the flagship vertical of our organization through field services. Currently, through the Thermax NXT initiative, all the members of this unit are directed to a pathway that we have charted for ourselves, and I look forward to leading and contributing.
As I summarize, I would like to acknowledge two important role players in my journey so far – the senior leadership of the organization, who trusted me for some very important projects; and second, my family whose staunch support made it possible for me to maneuver through these transitions smoothly. Without them, this enriching journey, spread across geographies would not have been possible.
The wide exposure to experiences has benefitted me in more than one way. Today, when I encounter a real-life problem, I have a plethora of experiences to bank on, perceive and overcome it with my learnings.
The message I will like to leave here is – Never say no to any change, or to move out of your comfort zone; it is always for something bigger and better in store for you!
– Bharat Pathak
PU Head – Heating Services in Cooling & Heating division.