From despair to hope!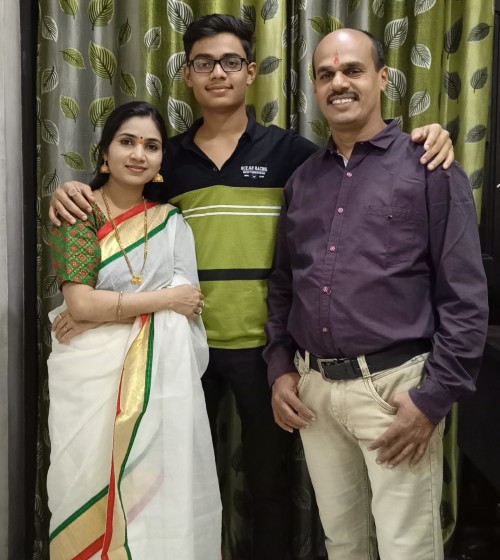 I pray to God that no one should ever go through the suffering I went through. I was detected COVID positive on 22 nd June 2020.
In my family, there is my mother, who is 72, my wife, Swati, and son, Piyush. After the lockdown was relaxed intermittently, I often stepped out of the house for groceries and essentials. I guess I must have contracted the infection during one of my visits. As soon as I received the RT-PCR report, I sought advice from Sunil Bhosale, senior executive, Healthcare, Thermax Workmen Medical Trust, and Sanjay Chopde, the trustee. Thereafter, I got in touch with Dr. Varsha Hande, an acquaintance serving at a hospital at Erandwane, who enrolled my name for admission in the said hospital.
Simultaneously, I had informed our local corporator, Rajashri Shilimkar so as to get my residence and vicinity sanitised. While going to the hospital, I faced extreme trouble getting an ambulance. Shilimkar and others tried hard to call for the ambulance, but it would have required another 6 to 8 hours to arrive. I consoled my family members who were in a panic mode. Also, answering incessant calls from well-wishers was causing breathlessness to me. It was the peak time of the day, and I couldn't even find a rickshaw. Also, it was risky to travel in a rickshaw, considering the transmission of infection to the driver. With no other option left, I brought out my two wheeler and drove alone to the hospital. The admission formalities were completed smoothly due to assistance from the medical trust and Dr. Varsha.
The hospital was a depressing and threatening sight. I could see some patients wailing in pain, some struggling to breathe, and some unfortunate instances of patients even losing their lives on arrival! I was shivering in fear – I had witnessed enough grief in those first four hours in the hospital that anticipating my near future was daunting. When there is no respite, a man has to garner all the courage he can; and that is what I exactly did. I prepared myself for the worst possibility. The next day, my oxygen level dropped below 80. The third day followed with aggravated cough, loose motions and vomiting with blood. These were symptoms of pneumonia. So, I was soon shifted to the ICCU. I remember seeing the hassled doctors, nurses and ward boys doing the rounds. I couldn't communicate or convey what I needed due to the respiratory pipes inserted in my nose and throat, and there was no one close to help me either. I was gradually losing hope. At last, all I could hold on to were my deeds, leaving my fate to Swami Samarth.
Soon after my treatment started, I had to be put on ventilator support. There was no one next to me who could take the decision as all my family members were quarantined at the Balewadi COVID centre. They were unaware of my critical condition; neither did I know that they were quarantined! In such a trying situation, some of my close relatives, with the help of Dr. Varsha and Sunil Bhosale, completed the formalities, following which I was put on the ventilator. Post five days on the ventilator, the doctors suggested calling my family members over, citing my deteriorating condition. With God's grace, I regained my consciousness on the sixth day, which brought back hope and relief to my family.
The atmosphere of the ICCU was dreadful – every day, there was one demise, and on one of the days, three deaths were reported. Hearing and witnessing this was devastating. I felt petrified and often cried at the unbearable pain and loss around me – the emotional and psychological stress resulted in my blood pressure once dropping to 40! Thankfully, I was treated in time, and my condition was stabilised.
It was after 15 days that I was moved to the general ward, but I still had no relief from coughing. For days together, no one came close to me except the nurses. The greatest sorrow in this pandemic is staying isolated at a time when you need your loved ones the most! I was bed-ridden, couldn't move, and was on oxygen support. Often, I had to help myself with the things I wanted – even with fetching water, as the hospital staff was scarce due to the pandemic. One month had passed! I again underwent the RT-PCR and CT scan. The reports weren't good – it seemed more suffering was in store! There were vein blockages diagnosed in my CT scan, but I was tested negative for COVID and was moved to the ICU! The only silver lining here was that being shifted to a non-COVID zone meant I could meet my family. I was extremely happy! This longing for my family made me realise what matters the most in life. I could finally meet my family members, friends – it felt like embracing life all over again! My wife had recently recovered from COVID. But despite the weakness, she stayed in the hospital with me for the next 13 days.
I was supposed to be discharged on the 43 rd day. Now, another bigger concern was the hospital bill – it was a whopping Rs. 7,65,000/-. My wife, Swati, ran from pillar to post, trying to get some amount waived off. She was determined to meet any politician for the same. Therein, Rajashri Shilimkar and her acquaintance, Nikhil Shilimkar helped us save Rs. 2,70,000/-; the Thermax Workmen Medical Trust paid a sum of Rs. 1,50,000/- and the company contributed Rs. 2,45,000/-. I paid the remaining amount of 1 lakh.
Before being discharged, I touched the feet of the Godly figure who treated and saved me – Dr. Balasaheb Pawar, the chest specialist. I would like to acknowledge the efforts of Dr. Sameer Jog (from Intensive Care Unit) and their team, who brought me back alive from the death's door. After returning home too, I was on oxygen support for a week. Post that, two months, I was recuperating at home.
The senior members of the organisation – Sharad Gangal (the then Executive Vice President, HR, ER, HSE and Admin), Suhas Garde (Function Head, Employee Relations), Kishor Somwanshi (President, Thermax Workers' Union) and Sunil Bhosale provided invaluable support that was crucial at the time.
I would like to extend my sincere gratitude to all the good samaritans who have played a significant role in giving me a new life and I shall forever be indebted to them.
P.S. COVID still exists. I request all to follow the safety measures issued by the government and the organisation. Please remember, only if we are safe; our family is safe.
– Mahesh Shinde
Chinchwad Factory