Lessons for life!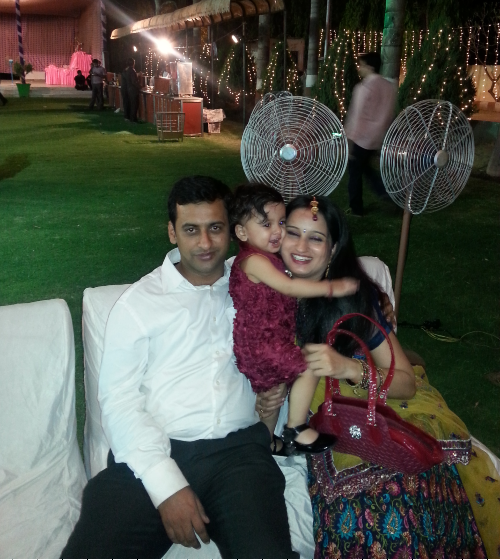 It was on 6th May 2021 that I received my COVID positive report. I was at Roha, Raigad, Maharashtra, where I work as a Station Manager, O&M at Sudarshan Chemicals plant. At that time, half of my team members were also suffering from COVID. Most of us were in home or company isolation, but since I started facing trouble in breathing, I had to get admitted to a hospital in Pune. I am immensely thankful to Gajendra Bisen, safety officer, and managers at the customer site for arranging an ambulance for me.
After admission to the hospital, I assumed that I would recover and be discharged very soon, but destiny had other plans. The stay continued for the next 42 days as 90% of my lungs were infected. My survival chance was only 1%! After three days in the hospital, following breathlessness, the doctors decided to shift me to the ICU.
My wife, Preeti, received a call from the hospital reception, informing her about my health condition. It was an extremely shocking and difficult situation for her to deal with. With no second thought in mind, she stepped out of the house with our 7-year old daughter to come to Pune. She reached the hospital at 7:00 pm. My daughter, Tanishi was forced to sit alone in the rain outside the hospital while my wife was arranging for my medicines. She was new to the city and didn't know anyone here. In such a situation, it was my colleague, Ameet Nampalliwar, (Deputy Station Manager, O&M, Sudarshan Chemicals, Roha) also a COVID survivor, who supported her. Nutan Kallur (Group HR Head – Power), Maya Masulkar (HR Administrator – Power&TIL – O&M) had arranged for their stay in the Thermax guest house.
On one of the dreadful nights in the ICU, around 2:30 am, my oxygen level dropped suddenly, and I fell unconscious. The ICU staff struggled to change my ventilator to increase my oxygen level. I felt that it could be my last night, but after a lot of efforts by the staff and with the blessings of God, I started breathing again!
After a few days, when Preeti came to meet me in the ICU room, I was in a very critical condition. I cannot express the emotions I went through when I saw her at the hospital near me. Her presence gave me the much needed willpower to fight on and hold on to the hope to survive.
On the same weekend, all of a sudden, doctors asked my wife to arrange for the Remdesevir injection for me, but even that proved to be a failed attempt. As a final resort, Itolizumab was suggested. Preeti was informed of all the possible side effects of this drug and was asked to sign a declaration, taking responsibility for the same. She signed it with a heavy heart. The administration of this medicine took close to eight hours. Thereafter, for the next 10 days, my wife was not allowed to see or meet me. She could only watch me through video calls or photos shared by the nurses. I was on RT feeding (providing nutrition when unable to eat through the mouth or are not in a state to swallow the food safely), but I do not remember that time! The time frame felt like a few hours to me. Gradually, my condition bettered, and I was moved to a liquid diet. After almost 38 days, I was moved out of the ICU. Finally, the prayers were answered. It's because of the blessings from my loved ones that I have survived. I have fought the battle of COVID in the hospital for a total of 42 days; out of which 22 days I was on the ventilator and then on oxygen support.
These testing times brought with them many challenges; some never anticipated situations. In one such instance, the doctor had suggested a high protein liquid meal (chicken and mutton soup) for me when I was on RT feeding. Coming from a Brahmin family and being a vegetarian, it was arduous for us to accept the demand. However, prioritising my health, my wife and brother in law, Pranava Saraswat, visited the meat shop daily and prepared the food for me. I will never forget their sacrifices and efforts.
Indeed, the pandemic has taught us many more life lessons than what we could learn over the course of a lifetime. It also led me to meet some very helpful and wonderful people, the saviours of my life – Dr. Abhishek Karmalkar, who treated me, his juniors- Dr. Kajal Mavani, Dr. Siddesh Randhe, Dr. Swapnil Pansare, brothers Akil and Amal Kalikar who had been very caring and supportive. A simple "Kaisa hai tu," from Dr. Kajal, and the daily motivation from Dr. Siddhesh, gave me the vigour to tread through this agonising path every day while in the hospital.
Once during the recovery stage, my oxygen level again started dropping drastically. I started shivering and was crying and shouting – "Please help me, brother". Therein, Amal consoled me, saying, "Nothing will happen; I am here with you". The ventilator was immediately arranged that normalised my condition. Though the pandemic showed us the worst times, it also reinstated our faith in humanity, thanks to the selfless souls – all the frontline and healthcare workers who have toiled to save lives.
Finally, I was at peace after being discharged from the hospital and heard a lot about the support extended by my team. Sabirali Masu (Project Manager, O&M), Sachin Ghadge (Logistics & Shipping Officer, O&M) visited the hospital several times, Surya Dhar (Manager – Engineering, Operations and Maintenance) always enquired about my health, Nutan Kallur was continuously in touch with my wife to know my condition and arrange for any commercial help required. My site team members took responsibility of the plant in my absence and ensured that it functioned without interruption.
I would like to sincerely thank the Power HR team and O&M's senior management for supporting me and my family in the most critical time. Thank you Thermax for staying beside me!
– Mayur Saraswat
Station Manager, O&M