Run4Fun #Fit4Life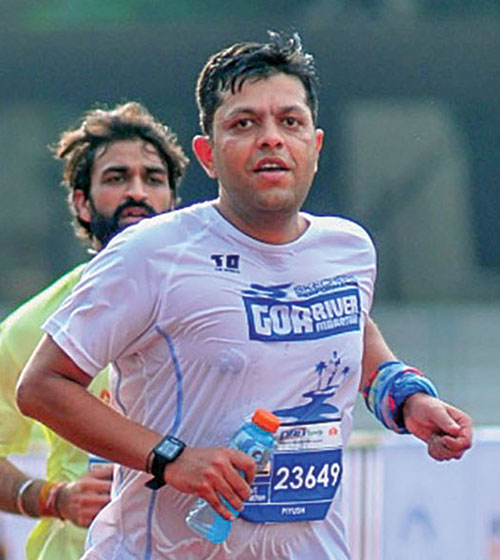 I always led a lazy and carefree life until one day when my health gave up on me, and I realised I had to do something about it. Thanks to my sedentary lifestyle, I had gained a lot of weight gradually over the years and in 2013, the weighing scale swung to 92 kgs, making me realise that I fall into the obese category.
I visited my family doctor, who advised me to reduce my weight by at least 14 kgs. I tried the gym and even coupled it with crash diets for a few months. A couple of times during intensive training, I injured my lower back severely while lifting heavy weights. I was then advised to keep away from the gym for six months and before I knew it, I had gained the little I managed to lose!
After a year and a half of tireless efforts and still determined to make it happen, I started with small walks to nearby places; beginning with half a kilometre walk and run and then slowly progressed to three km each day. As days passed, I started enjoying my walks and runs and gradually ramped up to longer distances, sometimes alone or with a local running group. A few months later, with the suggestion of a local physician, I also started a structured nutritious diet plan. In due course, I felt my energy levels go up and could see my weight drop, both physically and on the scale! Towards the end of 2015, I participated in my first 10 km monsoon marathon at Chembur, Mumbai organised by the Sports United and thereafter in a half marathon run to Satara hill spanning 21.1 km. I had attained my ideal weight of 78 kg by this time.
At this juncture when I had started enjoying my participation in the marathons, I began developing injuries around my ankle owing to a flat foot which made it difficult for me to run.
I was told that like all other sports, running also has a technique and requires a specific training to remain injury free.
I did not take my chances and consulted a sports therapist, who counselled me to buy a variant of gel-based in-sole shoe for flat foot and alternatively used orthotics for firm support. Despite all of these, my ankle injury kept recurring, though not as frequent as earlier days.
In March 2017, I had planned a two-day visit to a site at Banaras, to kick start an official project. However due to committed timelines and to ensure a successful handing over, I had to extend my stay by three weeks.
Since my stay was scheduled only for two days, I did not carry my pair of running shoes. A few days of no exercise, made me restless and on the fourth day of my stay there, I decided to walk barefoot on the ghats of the Ganges. My first experience of walking barefoot was a little jittery, to be honest, but by the next morning, I was subconsciously prepared for it. That night, I experienced pain and burning sensation in my feet, but after speaking to a friend who is an experienced barefoot runner for over five years, I gave some cold therapy to my feet which brought a lot of relief. The following morning, I jogged around the Banaras roads. Even though I felt my feet brush against the hard surface of the road, I did not face any problem. For the rest of my trip, I was at complete ease, running around the Banaras University campus.
Once back in town, my experienced friend advised me to buy special shoes known as 'Vibrams' to ensure injuryfree barefoot running on rough surfaces. He also asked me to follow a disciplined schedule of strengthening my lower body and advised me to keep a visibility of three to four meters as against ten meters while running with shoes. It's been over two years of running barefoot in countless events and without facing any injuries.
It is said that good things spread fast and so did the positive vibes in me stemming from my passion for running. The first ones to be influenced were my family members. My parents and wife started going for regular morning walks. Soon to follow them, was my seven-year-old daughter Shamika, who then later took to participating in short distance (three km) runs with me. Many of my office colleagues too connected with me and we formed a WhatsApp group called Run4Fun#Fit4Life.
Presently, the strength of our group is 19 members and we use this platform to mutually share our fitness plans, diets, workout schedules, footwear selection, information on upcoming events etc. It is heartening to hear my friends and colleagues share their transformational journey, after following my fitness regime. I have also been able to connect with some likeminded people at our customer front and have motivated them to adapt to a healthier lifestyle.
I want to end it by saying that running has not only made me fit but has improved my focus, overall wellbeing, ability to multitask and manage my stress levels.
– Piyush Dixit
Power